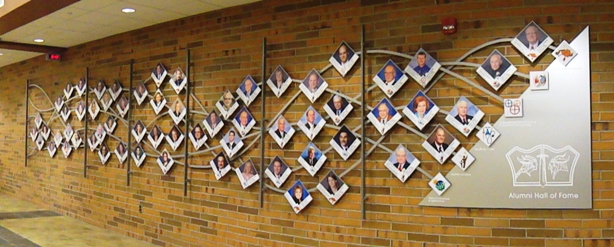 The 2022 Alumni Hall of Fame induction ceremony was held on September 16, 2022, when seven new members were inducted into the Hall of Fame:
Dr. Samantha L. Bidwell (2011)
Dr. Kip Franklin (2004)
Dr. Todd Gaffke (2003)
Ms. Karen Michelson Hartwick Hart (1890)
Ms. Mary Hunter (1971)
Ms. Jean Portwood Lindquist (1962)
Mr. David Wyman (1960)

An induction luncheon was held in the Grayling High School Media Center for inductees and their families and friends. Afterward, they toured the high school and attended the GHS Homecoming assembly. In the evening, they participated in the pre-game tailgate party and were introduced just before the start of the Homecoming football game.
Click here to access the nomination form.
The CASD Board of Education established the Alumni Hall of Fame program in 2004, inspired by school board member Jim Tobin. It was created to honor those Grayling High School and Frederic High School graduates who have attained advanced education degrees and/or won high honors or awards and/or contributed significantly to the lives of others and also to provide inspiration to today's students -- in the form of the ceremony and the visual reminder pictured above -- that CASD graduates can and do achieve at highly impressive levels in a wide variety of disciplines and in a wide variety of locations.

The first Alumni Hall of Fame induction ceremony was held on May 2, 2004, in the newly remodeled Joseph H. Stripe Auditorium. At that event, 17 graduates -- including doctors, dentists, pharmacists, attorneys, educators, researchers, politicians and diplomats -- were honored.

The Hall of Fame is a collaborative effort of the CASD Board of Education and private individuals who have donated funds. Contributions to offset expenses from friends of the CASD are always welcome.