We are in need of new or gently used reusable shopping totes, backpacks, etc. Bags can be dropped off in the Main Office or left in our drop box at the main entrance.
The Grayling Viking Food Pantry is a resource available for all Grayling High School students. An order form is emailed to all students weekly, and any student wishing to get a bag that week can complete and submit the order form.
We are collecting Family Fare receipts. You may drop them in the Viking Pantry Collection Box in front of the school or bring them to the Counseling Office.

For information, contact Teresa Bonamie at 989-344-3512 or tbonamie@casdk12.net
The Viking Pantry was featured on the Inspired website in November 2016 and in the 2017 issue of SET SEG's Member Advantage.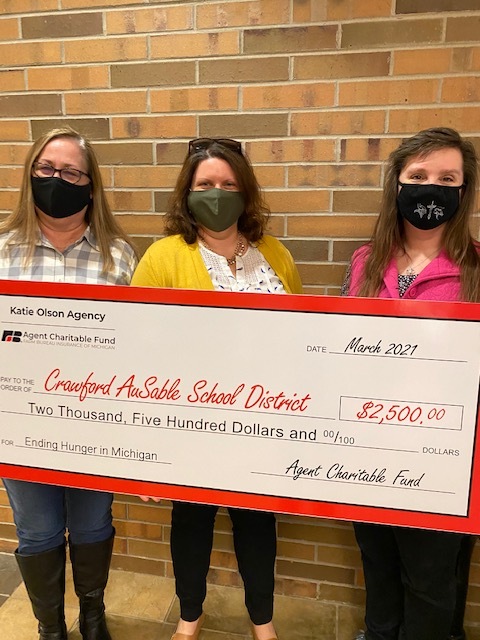 The CASD pantries received a $2,500 grant in March 2021 from Farm Bureau Insurance thanks to Katie Olson of the Katie Olson Agency. Pictured: Ann Malm, GMS Viking Pantry coordinator; Katie Olson; and Teresa Bonamie, GHS Viking Pantry coordinator. Not pictured: Samantha Rogers, GES Resource Center and Food Pantry coordinator.